The Fast Cross returns after a long absence, thanks to Fabio Tognella who a few years ago decided to revive the legendary Arsago Seprio track and after three years of hard work the bikes are finally back on the legendary circuit and for the occasion ran at night. The grandstands were stormed by the public who were able to experience great emotions.

SDMCORSE-AVIOMETAL MX TEAM lined up Nicholas Lapucci and the English rider Jack Brunell, specialist in the cross arena.

Nicholas Lapucci was the real star of the 1-on-1 challenge where he defeated the competition by winning all the fights and taking home the prize celebrating with the team on the podium.

In the qualifications of the Sx race Nicholas, who was included in group A, immediately found himself at ease going to set the best time of his group.
The qualifying heat where the first four riders qualify for the final, Nicholas after a not easy start was recovering well when he ran into a bad crash that forced him to retire.

Jack Brunel in his heat with a good performance concludes in seventh place, the English driver did not qualify for the final but had to pass for the last chance, Jack with an aggressive heat managed to win his race entering the final.

Jack in the final gets a good result with the final eighth place.

The first edition of Fast Cross by Night closes with a great show and the public for special occasions.

SDMCORSE-AVIOMETAL MX TEAM is getting ready for the home GP that will take place next 16-17 September in Maggiora.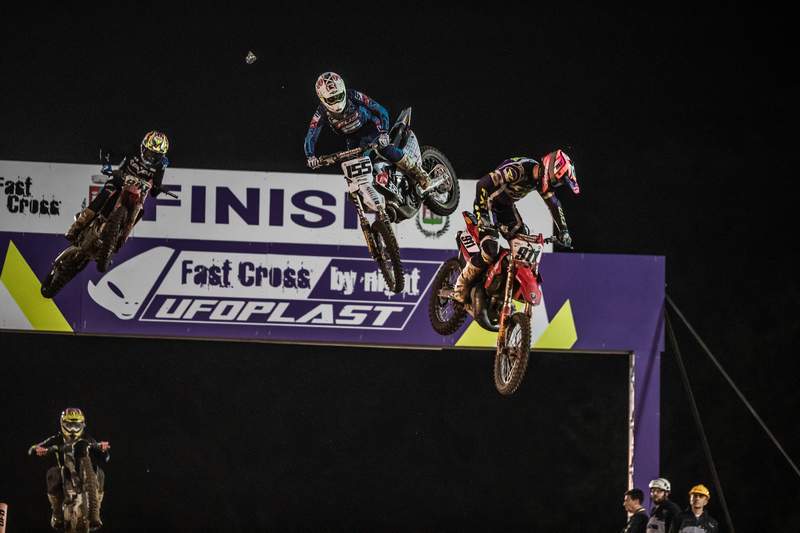 Ritorna dopo una lunga assenza il Fast Cross, grazie a Fabio Tognella che alcuni anni fa ha deciso di ridare vita alla mitica pista di Arsago Seprio e dopo tre anni di duro lavoro finalmente le moto sono tornate a calcare il mitico circuito e per l'occasione si è corso in notturna. Le tribune sono state prese d'assalto dal pubblico che ha potuto vivere delle grandi emozioni.

SDMCORSE-AVIOMETAL MX TEAM ha schierato Nicholas Lapucci e il pilota inglese Jack Brunell specialista dell'arena cross.

Nicholas Lapucci è stato il vero protagonista della sfida 1 contro uno dove ha sbaragliato la concorrenza andando a vincere tutti gli scontri e portandosi a casa il premio festeggiando con il team sul podio.

Nelle qualifiche della gara di Sx Nicholas che è stato inserito nel gruppo A si è trovato subito a suo agio andando a far segnare il miglior tempo del suo gruppo.
La manche di qualifica dove i primi quattro piloti si qualificano per la finalissima, Nicholas dopo una partenza non facile stava recuperando alla grande quando è incappato in una brutta caduta che lo ha costretto al ritiro.

Jack Brunel nella sua heat con una buona prestazione conclude al settimo posto, il pilota inglese non si è qualificato per la finalissima ma è dovuto passare per la last chance, Jack con una manche aggressiva è riuscito a vincere la sua gara entrando nella finalissima.

Jack nella finale ottiene un buon risultato con l'ottavo posto finale.

Si chiude la prima edizione del Fast Cross by Night con un grandissimo spettacolo e il pubblico delle grandi occasioni.

SDMCORSE-AVIOMETAL MX TEAM si prepara per il Gp di casa che si correrà il prossimo 16-17 Settembre a Maggiora.