A weekend with a double appointment for the SDMCORSE-AVIOMETAL MX TEAM which lined up Albin Gerhardsson in the MXGP World Championship which took place in Finland and Nicholas Lapucci in the third race of the Internazionali d'Italia Supercross which was held on the Malpensa track.
In Finland Albin Gerhardsson gets an excellent twentieth time in qualifying, at the start of the qualifying heat the Swedish driver manages to get off to a good start and with a good performance he manages to cross the finish line in 18th place.
Also in this appointment Albin Gerhardsson's performance grew and so it was also in the first heat of this GP, Albin demonstrating a good adaptation to the difficult track of Vantaa and with a race without making mistakes he finished in an excellent 16th place.
In the second heat, unfortunately immediately after the start Albin Gerhardsson was the victim of a trivial technical problem which forced him to retire.
Nicholas Lapucci wins the third round of the Internazionali d'Italia SX.
Track created in the lower part of the historic Ciglione della Malpensa circuit, home race for the SDMCORSE-AVIOMETAL MX TEAM which is based a few kilometers from the facility.
Nicholas immediately found himself at ease on the track scoring pole position in the time practice, in the qualifying heat Lapucci was unable to exploit his position at the gate and with a race without exaggerating in order not to make mistakes he finished in third place.
The main event of the 450 class saw Nicholas as the protagonist who staged a great show for the audience, Lapucci after a bad start that relegated him to fifth place showed all his speed with a super comeback that saw them finish in second place.
Lapucci did nothing wrong in the superfinal and not even the rain that fell during the heat was able to stop the Tuscan driver. Nicholas with a great start took the lead of the race and with an incredible pace he won with over 10 seconds of gap.
Nicholas Lapucci is now in third place in the overall standings recovering some points on his opponents.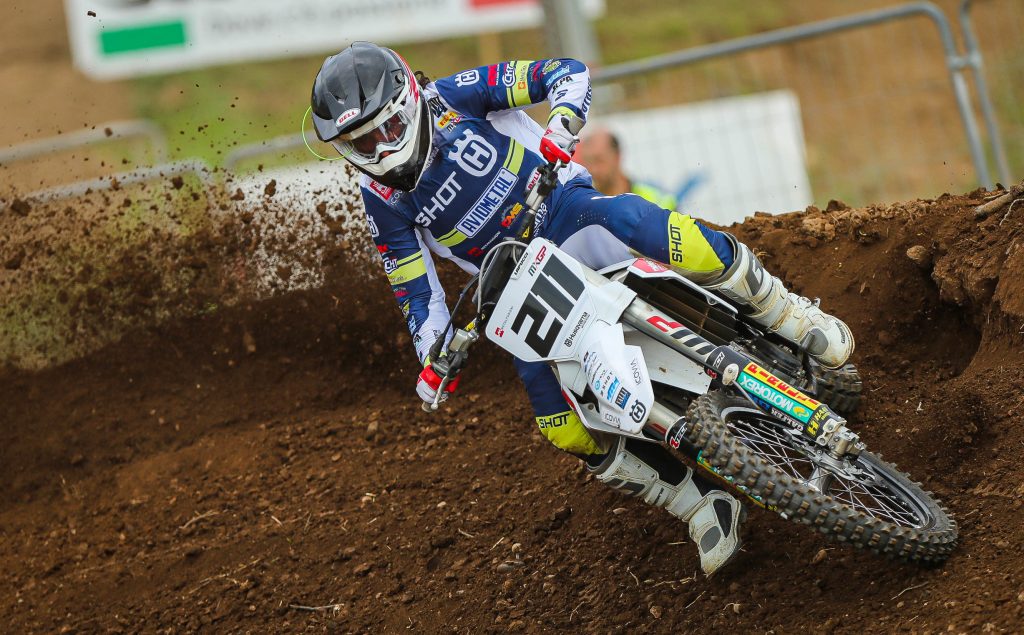 Campionato MXGP Finlandia – Internazionali Supercross Malpensa
Un fine settimana con doppio appuntamento per il SDMCORSE-AVIOMETAL MX TEAM che ha schierato Albin Gerhardsson nel Mondiale MXGP che si è corso in Finlandia e Nicholas Lapucci nella terza gara di Internazionali d'Italia Supercross che si è tenuta sulla pista di Malpensa.
In finlandia Albin Gerhardsson nelle prove ottiene un ottimo ventesimo tempo, al via della manche di qualifica il pilota svedese riesce a partire bene e con una buona prestazione riesce a tagliare il traguardo in 18° piazza.
Anche in questo appuntamento Albin Gerhardsson è andato in crescendo di prestazione e così è stato anche nella prima manche di questo Gp, Albin dimostrando un buon adattamento alla difficile pista di Vantaa e con una gara senza commettere errori ha chiuso con un ottimo 16° posto.
Nella seconda manche purtroppo subito dopo il via Albin Gerhardsson è stato vittima di un banale problema tecnico che lo ha costretto al ritiro.
Nicholas Lapucci vince il terzo round degli Internazionali d'Italia SX.
Tracciato ricavato nella parte bassa dello storico circuito del Ciglione della Malpensa, gara di casa per il SDMCORSE-AVIOMETAL MX TEAM che ha sede a pochi chilometri dall'impianto.
Nicholas si trova subito a suo agio sulla pista facendo segnare la pole position nelle time practice, nella manche di qualifica Lapucci non riesce a sfruttare la sua posizione al cancello e con una gara senza esagerare per non commettere errori ha chiuso al terzo posto.
Il main event della classe 450 ha visto Nicholas essere il protagonista che ha messo in scena un grandissimo spettacolo per il pubblico presente, Lapucci dopo una brutta partenza che lo ha relegato al quinto posto ha fatto mostrato tutta la sua velocità con una super rimonta che lo ha visto concludere al secondo posto.
Lapucci nella superfinale non ha sbagliato niente e neanche la pioggia che si è abbattuta durante la manche ha potuto fermare il pilota toscano. Nicholas con una grandissima partenza si è portato al comando della gara e con un ritmo incredibile ha vinto con oltre 10 secondi di distacco.
Nicholas Lapucci ora si trova al terzo posto della classifica assoluta recuperando alcuni punti sui suoi avversari.