The legendary Maggiora track was the stage of the Italian GP, for the SDMCORSE-AVIOMETAL MX TEAM it is the home race. On Friday and Saturday morning the circuit was subject to violent storms which made the historic circuit borderline impassable, for Albin Gerhardsson on his first time ever at Maggiora and in extreme conditions it was not easy to find the right feeling.
In qualifying Albin tried to find the best lines to best interpret the track but was unable to do better than 25th time, in the qualifying heat Gerhardsson managed to improve with 22nd place.
Fortunately, on Sunday the sun made its appearance in Maggiora, drying out the track. At the start of the first heat, Albin was unable to find a good start, struggling to find the right rhythm, finishing in 25th place.
In race 2 Gerhardsson manages to improve at the start and at the first corner he is around the twentieth position, Albin during the first laps made some small errors causing him to lose a couple of positions, the Swedish driver however showed good speed which allowed him allowed him to finish in 22nd place.
Daniele Marchese: "For SDMCORSE-AVIOMETAL MX TEAM this was the last race of the season as we will not be present at the last race in England. The track conditions were really difficult especially on Saturday, Albin was in his first race in Maggiora and with these conditions it wasn't easy for him to find the right feeling, but during the heats he improved, it's a shame we weren't able to get into the top twenty pilots. We will be present at Malpensa for the last race of the Italian championship, I would like to thank all my staff and the sponsors who supported us, we are very happy with the progress made by Albin in these races and in the next few weeks we will reveal the plans for 2024.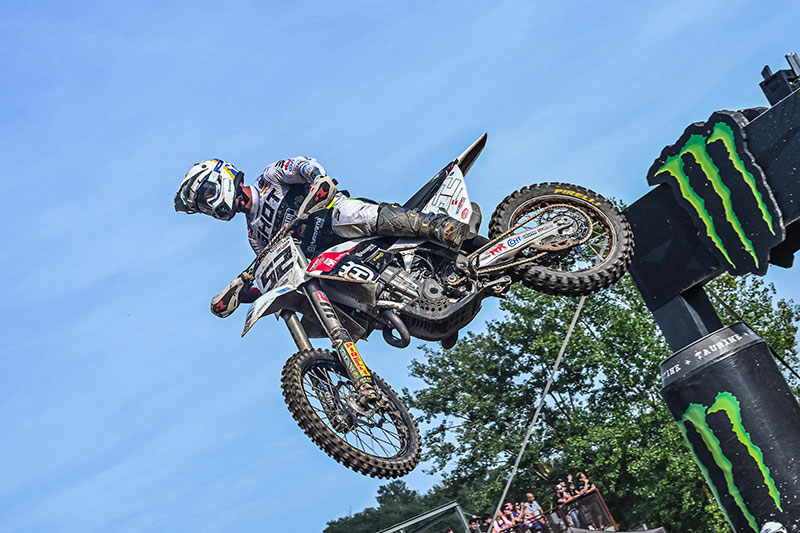 Campionato del Mondo MXGP Italia
La mitica pista di Maggiora è stato il palcoscenico del Gp d'Italia, per il SDMCORSE-AVIOMETAL MX TEAM è la gara di casa. Nella giornata di venerdì e il sabato mattina il circuito è stato oggetto di violenti temporali che hanno reso lo storico circuito al limite dell'impraticabile, per Albin Gerhardsson alla sua prima volta in assoluto a Maggiora e in condizioni al limite non è stato facile trovare il giusto feeling.
Nelle qualifiche Albin cerca di trovare le linee migliori per interpretare al meglio il tracciato ma non ha potuto fare meglio del 25° tempo, nella manche di qualifica Gerhardsson è riuscito a migliorarsi con il 22° posto.
La domenica fortunatamente il sole ha fatto la sua comparsa a Maggiora asciugando la pista, al via della prima manche Albin non riesce a trovare una buona partenza faticando a trovare il giusto ritmo chiudendo al 25° posto.
In gara 2 Gerhardsson riesce a migliorarsi in partenza e alla prima curva è intorno alla ventesima posizione, Albin nel corso dei primi giri ha commesso qualche piccolo errore facendogli perdere un paio di posizioni, il pilota svedese però ha messo in mostra una buona velocità che gli ha consentito di concludere al 22° posto.
Daniele Marchese:"Per SDMCORSE-AVIOMETAL MX TEAM questa è stata l'ultima gara stagionale in quanto non saremo presenti all'ultima gara in Inghilterra. Le condizioni delle pista erano veramente difficili soprattutto nelle giornata di sabato, Albin era alla sua prima gara a Maggiora e con queste condizioni non era facile per lui trovare il giusto feeling, ma nel corso delle manche è migliorato, peccato non essere riusciti a entrare nei primi venti piloti. Saremo presenti a Malpensa per l'ultima gara del campionato Italiano, vorrei ringraziare tutto il mio staff e gli sponsor che ci hanno supportati, siamo molto contenti dei progressi fatti da Albin in queste gare e nelle prossime settimane sveleremo i piani per il 2024.