The Motocross World Championship returns to Europe, after the break due to the two overseas races, on the historic track of Loket in the Czech Republic, an old-style track with a hard surface, SDMCORSE-AVIOMETAL MX TEAM lines up Albin Gerhardsson for the first time on this track.
In timed qualifying Albin fails to find the feeling with the track and concludes with the 31st time, in the qualifying race the Swedish driver manages to improve going to finish in 28th place.
In race 1 from a difficult position at the gate, in Loket the start is fundamental, he tried not to make mistakes trying to find the right pace, Albin crossed the finish line in 28th place.
The second and last heat of the day saw Gerhardsson put on an excellent performance, after a good start Albin found the right rhythm and managed to recover several positions until he reached close to the points zone in 21st position.
The team was involved with Nicholas Lapucci in the second round of the Left-handed Italian Internationals which took place on Saturday evening in Abano Terme.
Nicholas in his second race after the long injury that kept him away from the slopes did a good race, in timed qualifying he set the third fastest time, position confirmed also in the qualifying race.
Shrewd start for Lapucci in the Main Event but thanks to an excellent pace he crossed the finish line in second position.
Daniele Marchese comments as follows:"After a long break we are back on track with our two riders in two different events, Albin in the MXGP World Championship and Nicholas in the Sx in Italy. Albin in his first race in Loket was very good with an excellent crescendo in his performance, touching the points zone in race 2. Nicholas obtained an excellent second place which boosts morale after his long absence due to injury. The team continues to work to improve race after race."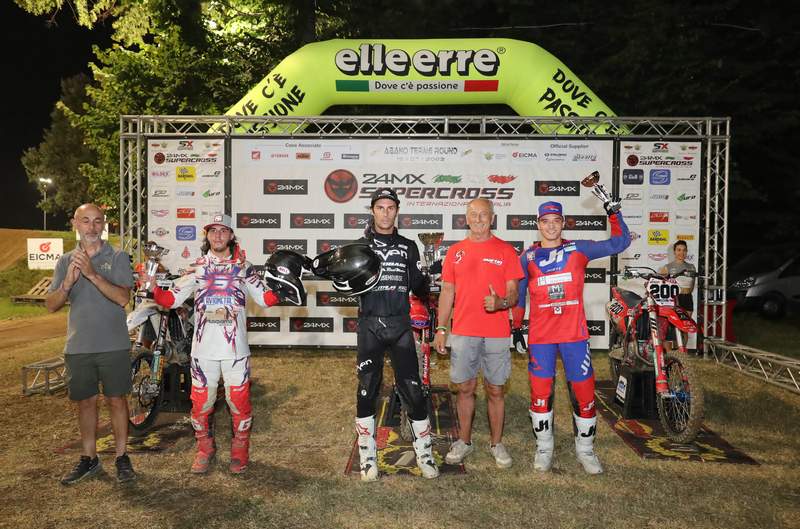 Campionato del Mondo MXGP Repubblica Ceca
Torna in Europa il Mondiale Motocross, dopo la pausa dovuta alle due gare oltre oceano, sulla storica pista di Loket in Repubblica Ceca tracciato vecchio stile dal fondo duro, SDMCORSE-AVIOMETAL MX TEAM schiera Albin Gerhardsson prima volta per lui su questa pista.
Nelle prove cronometrate Albin non riesce a trovare il feeling con la pista e conclude con il 31° tempo, nella gara di qualificazione il pilota svedese riesce a migliorarsi andando a concludere al 28° posto.
In gara 1 da una posizione al cancello non semplice, a Loket la partenza è fondamentale, ha cercato di non commettere errori cercando di trovare il giusto ritmo, Albin ha tagliato il traguardo al 28° posto.
La seconda e ultima manche di giornata ha visto Gerhardsson mettere in mostra un'ottima performance, dopo una buona partenza Albin ha trovato il giusto ritmo ed è riuscito a rimontare diverse posizioni fino ad arrivare a ridosso della zona punti in 21° posizione.
Il team è stato impegnato con Nicholas Lapucci nel secondo round degli Internazionali d'Italia di Sx che si sono svolti nella serata di sabato sera ad Abano Terme.
Nicholas alla sua seconda gara dopo il lungo infortunio che lo ha tenuto lontano dalle piste ha fatto una buona gara, nelle prove cronometrate ha fatto segnare il terzo miglior tempo, posizione confermata anche nella gara di qualifica.
Partenza accorta per Lapucci nel Main Event ma grazie ad un ottimo ritmo ha tagliato il traguardo in seconda posizione.
Daniele Marchese commenta così:"Dopo una lunga pausa siamo tornati in pista con i nostri due piloti in due differenti manisfestazione, Albin nel Mondiale MXGP e Nicholas nel Sx in Italia. Albin alla sua prima gara a Loket è stato molto bravo con un ottimo crescendo nelle sue prestazioni sfiorando la zona punti in gara 2. Nicholas ha ottenuto un ottimo secondo posto che fa morale dopo la sua lunga assenza per infortunio. Il team continua a lavorare per migliorarsi gara dopo gara."